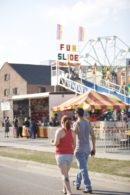 The 34th consecutive Washington Summer Festival will be held on the Pamlico River along Stewart Parkway and Festival Park on June 9th and 10th.  Downtown Washington comes to life with the music of The Embers featuring Craig Woolard, the sound children's laughter, and the smell of funnel cake.  Celebrate the lifestyle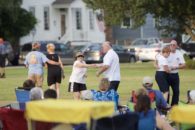 that we enjoy on the river with your neighbors, friends and newcomers.  Stroll through the downtown shops and see what the artists and vendors have to offer along the waterfront.  Friday features the Embers and fireworks.  Saturday features a Princess & Super Hero meet and greet, CW Trials Bicycle Stunt Show, and finishes the day with music from the Eli Craig Band. Click HERE for a full schedule of events or call 252-946-9168.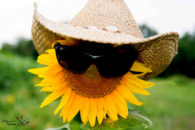 The NC Sunflower returns this year to Raised in a Barn Farm.  The 2nd annual event on June 23-25 promises to be a fun-filled weekend in Chocowinity and Beaufort County.  Music during the Festival includes Bryan Mayer, Johnny Diaz, Mac & Juice, Liquid Pleasure, Mikele Buck Band and Doug Flowers Bluegrass Band. Sunflowers for SALE to support Riley's Army; wonderful photo ops; up to 100 vendors of Food, covered pavilion to relax and enjoy daytime musicians and entertainers; Drink, Beer & Wine Garden, Crafts, Art, Products, Educational Exhibits; D C Amusements (per ride or wrist band passes additional), Seed Spitting Contest, Primal 4×4 Jeep Expedition, BMX Bike Show, non-denominational Worship and Praise Service on Sunday (free admission from 10-11).  On June 17th at the Turnage Theatre in Washington, the Miss Sunflower will be crowned at the Miss Sunflower Festival Pageant. For more information and to purchase tickets, visit www.NCSunflowerFestival.com.
Yes, we're already thinking about July 4th! It's not too early to make plans for one of the biggest celebrations of the year.  Washington's Waterfront and Festival Park wi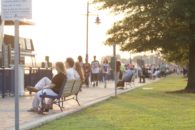 ll be abuzz with activity.  Food vendors, music and more are planned for Tuesday, July 4th.  We'll keep adding information to the calendar listing as it becomes available.  Be sure to bookmark the July events page. In nearby Belhaven, the town that has hosted a 4th of July celebration for 75 years, the festivities will begin on July 1st with the parade, music and fireworks on Tuesday, July 4th.