This weekend marks the official start of the holiday season in Washington.  You'll find Santa, a traditional Christmas parade, home tours, music, and more.  Think Norman Rockwell when thinking of traditional Christmas celebrations in Washington! Plan to spend your weekend in Washington to enjoy the best of the season.  For specific times and events, please CLICK HERE as there is simply too much to list!
THIS WEEKEND
1st-2nd ~ Kris Kringle Craft Show, Washington Civic Center
2nd ~ Santa Claus, Caboose Park, 9 am to 3 pm
2nd ~ Washington Christmas Parade, Downtown Washington, 10 am
2nd ~ Holiday Tour of Homes, Washington, 10 am to 5 pm
2nd ~ Community Messiah Performance, Turnage Theatre, 7 pm
Beginning Dec. 2nd ~ Harbor Walk of Lights, Washington Waterfront, 5:30 pm
For a complete listing of area holiday events, visit www.VisitWashingtonNC.com.  There are so many great things to see and do this month in our area.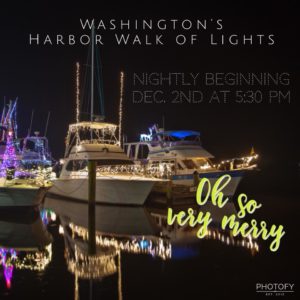 It is one of the favorite events of the Christmas season in Washington, and it lasts all month.  Starting on December 2nd at 5:30pm, Washington's harbor will gleam with the festive lights of boats. More than 50 boats are anticipated this year, making it a sight to see!  Each night you can enjoy the lights all along the waterfront between the Pamlico River bridge and the railroad trestle.  Walk at your leisure, drive by, or even paddle by if the weather is suitable.  While you are here, take in some shopping and dining in the Harbor District. Later in the month, enjoy the lights in a Hayride with Santa!
Several other Beaufort County communities have festivities planned that you may want to enjoy.  Take a walk through Christmas past in Historic Bath with two upcoming events. Historic Bath State Historic Site has its annual Holiday Open House on Dec. 9th and a candlelight tour will be held on Dec. 2nd.  The Toy Trains of Belhaven will open for the Christmas season on Dec. 2nd. A Holiday Home Tour  is also planned in Belhaven on Dec. 9. Parades are planned throughout the area in the coming weeks: Washington (12/2), Belhaven (12/2), Bath (12/3), and Aurora (12/10).