Marine Market
April 26, 2014 @ 10:00 am

-

5:00 pm
Little Washington Boasts Big Marine Market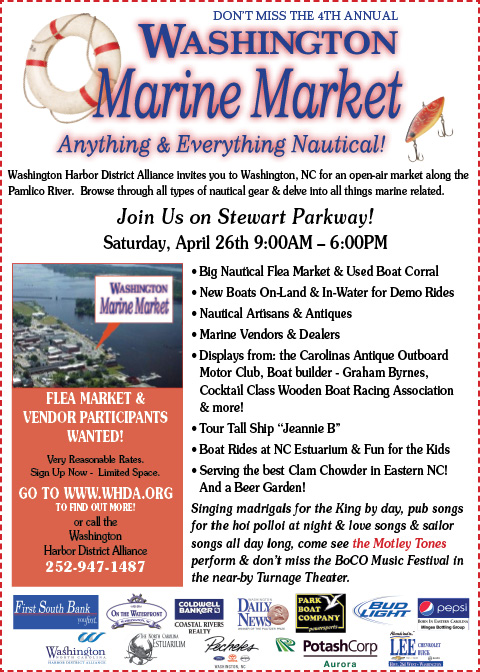 Washington, NC is a city created by its proximity to the Pamlico River.  Beginning as its role as a major supply port for the Continental forces or when Washington's fleet of sailing vessels bore tobacco and timber products to the far ports of Europe and the West Indies. This picturesque coastal city, fondly referred to as the "Heart of the Inner Banks" has a future and past which is forever interwoven with everything nautical.
The 4th annual Washington Marine Market celebrates those ties to the river, offering a full day of marine related activities and a treasure hunt of marine finds on Saturday, April 26th from 9:00 to 6:00 p.m.
The Washington Harbor District Alliance (WHDA) is pleased to offer this popular event. "Our citizens are lucky to live on the nations' second largest estuarine system. Beaufort County has strong ties to the marine industry. That means there are great numbers of consumers and vendors for this type of an event" says Beth Byrd, Executive Director of WHDA. "We saw a niche that was not being filled." What better place to stage the market than our beautiful downtown Harbor District?"  Byrd goes on to say. Many come out every year for the big flea market, used boat corral, new boat show, artisan display and antique alley.  "This year's event brings many maritime industry representatives and enthusiasts to Washington".  Byrd explains. One of the favorites is Park Boat who will have fishing, deck, sport, and pontoon boats on display with some models in the water and available for demo rides.
The maritime community both love and support the Marine Market. Antique Outboard Motor Club of the Carolinas puts on an awesome display of antique motors and boats. Award winning naval architect, designer and boat builder, Graham Burns, will give a presentation on wooden boat building. The 72' gaff rigged tall schooner Jeannie B, who makes Washington her homeport will be demonstrating knot tying and celestial navigation along with tours of the vessel. They'll be a demonstration race and display from the Cocktail Class Wooden Boat Racing Association and local organizations like the Washington Flotilla of the Coast Guard Auxiliary, Angel's n' Camo and the Pamlico Tar River Foundation will be there.
An invitation goes out to all our landlocked friends to put on 'yer best pirate costume and come enjoy the Motley Tones whose pub & sailor songs will entertain the crowds. Or mosey next door to the Turnage Theater to enjoy many genres of music at the BoCO Music Festival. "We will be serving Clam Chowder made from an old secret eastern shore recipe" states chair Garleen Woolard. "Eat in one of the riverfront restaurants or enjoy seafood or land lubber grub from the street vendors and grab a beer at the beer garden".  They'll be roving pirates, boat rides, face painting and namesake George Washington will be available for photos with your crew. The event is free but bring lots of cash for all the bargains you'll find! Go to WHDA.org for more information on how to participate as a vendor or a visitor.
Welcome to the Cocktail Class Wooden Boat Racing Association! CCWBRA was founded in 2010 to encourage and organize racing in the Cocktail Class Runabout. Based on the out-board racer SKUA, an 8 ft. plywood skimmer designed in 1939 by Charles MacGregor, the Cocktail Class Runabout is an economical, easily constructed and exciting runabout. It is ideal for racing at all skill levels and ages.
Although a young powerboat racing organization, the CCWBRA and its one-design Cocktail Class Runabout have received overwhelming enthusiasm and support from around the world. Boats are being built and raced in 33 states and 7 countries. We are sure they will engage all generations of your family and friends for many years to come!